Workstation type Active Vibration Isolation System

ME40-D series

The compact body houses active isolation mechanism in six degrees of freedom

In recent years the field of nanotechnology has made remarkable progress, and as a result the needs of customers have evolved. The ME40 Series stands as a reliable partner in this constantly changing field, capable of meeting your nanotechnology needs by maximizing the performance of high-precision and high-resolution precision instruments. The compact body houses active isolation mechanism in six degrees of freedom, to produce the ideal vibration environment which surpassed the capabilities of conventional passive vibration isolation systems.
Business Fields
For Microscopy
For Measurement
For Surface Analysis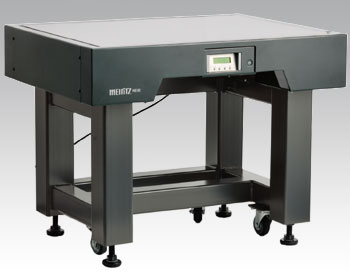 Features
Active vibration isolation in six degrees of freedom
The system can control vibration in three dimensions (six degrees of freedom) while continuously monitoring the vibration of the loading table. This is done by using an integrated actuator to provide an opposite phase signal to the measured vibration.
Wide selection of sizes
We offer four sizes - two desktop types and two workstation types. For desktop types a damped alminium plate is used as the loading table, while a steel honeycomb optical tabletop is used for workstation types.
Automatic active control and leveling adjustment
Our originally developed control system optimizes gain control, which is an essential part of active vibration isolation.
(Please note that in some instances automatic control might not work, depending on the installation environment or whether the ME40 Series is used with a movable instrument, such as a high precision stage.)
Requires only a single power supply to run
The only thing needed to run the ME40 Series is a power supply. No air supply from a compressor or other unit is required, allowing you to use ME40 series wherever you go.
Applications
Precision measuring and processing instruments such as scanning probe microscopes (SPM), confocal laser microscopes, interferometer systems, 3D configuration measuring equipment, and displacement meter systems
Vibration transmissibility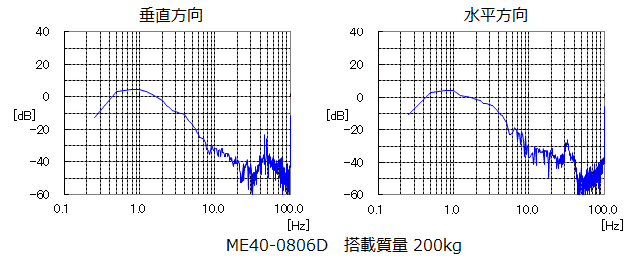 Specifications
Item/Model
ME40-0806D
ME40-1007D
Active control range
0.5Hz~100Hz(passive control for 100Hz or higher)
Automatic mechanism
Active control adjustment, leveling adjustment
Status
Displayed on the front LCD control panel
Load weight(kg)※
200
200
Table dimensions(mm)
800×600
1000×750
Machine dimensions(mm)※※
890×690×700
1090×840×700
Machine weight(kg)
155
190
Utility
Power supply(100V-240V, AC single-phese, 50/60Hz)
Standard accessories
Instruction manual, power cord(3m)
Options
We can provide tap holes on the top surface.
Please contact us in detail.
※uniformly distributed load
※※Protrusions are not included.
Dedicated soundproof booths and desktop machine frame are also available. Please contact us for more information about these products.
Product Inquiry
Complete the form below and press the submit button.*We will respond via email as soon as possible.