Active Pneumatic Suspention System

MRZ series

Active Pneumatic Suspention System

Based on MAPS series, we have developed high performance and reasonable Active Pneumatic Suspention System MRZ series!
Business Fields
For Measurement
For Semiconductor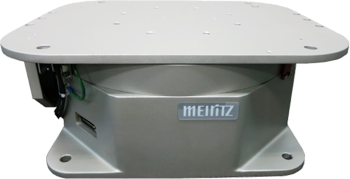 Features
Applications
FPD・semicondoctor equipment、Electron microscopy、UHV-SPM、Measuring machine、Ultraprecision machine、etc.
Active vibration isolation in six degrees of freedom
Each unit has two air pressure actuators: vertical and horizontal, and can experience excellent performance of vibration isolation, vibration suppression and precise positioning.
FB+FloorFF control
FB: Feedback
FloorFF: Floor Feedforward
StageFF: Stage Feedforward (Option)
「Light and Compact」「Save Electricity 」「Reasonable Price」!
Realize Light weight and compact, save electricity, and reasonable price.
Patent
Japanese Patent No. 5457821
Specifications
SPECIFICATIONS
Transmissibility
Drawing
Type
MRZ-200
MRZ-330
MRZ-520
Payload Range per 4 units[kg]
1,500~4,400
4,000~12,800
10,000~32,000
Dimensions of a Unit W×D×H [mm]
324x252x191
504x404x191
694x594x191
Mass of a Unit [kg/unit]
34
60
110
Supplied Air Pressure [MPa]
0.6~0.8(Clean dry air)
Typical Air Consumption [l/min]
45~65
120~170
Maximum Air Consumption [l/min]
120
300
Power Supply Voltage [V]
100~240(Single-Phase AC,50/60Hz)
Maximum Power Consumption[VA]
120
Environmental Temperature [℃]
0~40
Relative Humidity [%RH]
35~85
Vibration Isolation method
Vibration Isolation by Air Pressure Control
Dimensions of Controller [mm]
W435xD300xH118
Mass of a Controller [kg]
7.5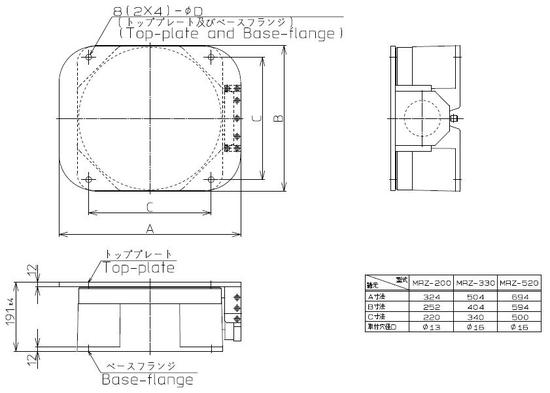 Product Inquiry
Complete the form below and press the submit button.*We will respond via email as soon as possible.